Get Instant Financing For Qualified Buyers With
(Details At Checkout)
About Advanced Clutch Technology | ACT
Since 1994, Advanced Clutch Technology has specialized in delivering the highest performing driveline components in the industry. A laser-guided focus on customer service, quality and reliability has earned the company a coveted reputation across all segments of the performance aftermarket. Each product offering is thoroughly researched, engineered and tested to ensure it performs up to the challenge of customer expectations - with the goal of far exceeding them. This all-in commitment to excellence has resulted in the support of numerous victories and championships around the world. These same standards also ensure street products provide the solid performance relied upon day after day. Where 90-120 day warranties are the norm, ACT's 1-year limited warranty signifies this promise so enthusiasts know they are making the preferred choice.
VISION, POWERED BY
PASSION
Serve Our Customers with outstanding quality and service, exceptional value, and measurable results, while delivering an extensive product line to meet the most challenging needs of our customers.
Lead the Industry with innovation, business excellence, enthusiasm, and refined systems of operation.
Advanced Clutch Technology designs, engineers and develops products by leveraging decades of track and performance street experience. Advanced CAD, FEA simulation and CAM tools help ensure highly optimized performance, reliability and repeatability. These key advantages are produced by combining the best engineering and design methodologies with the latest in materials and manufacturing techniques.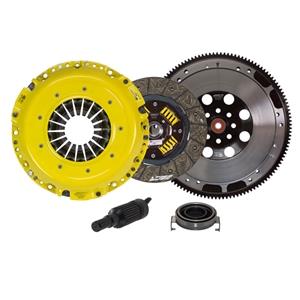 ACT Clutch Kits stand unequaled in terms of consistent pedal feel, high torque capacity, long wear life and durability. In-house manufacturing is critical in tuning components specifically to each individual application, while maintaining the predictable ACT pedal feel across the entire catalog.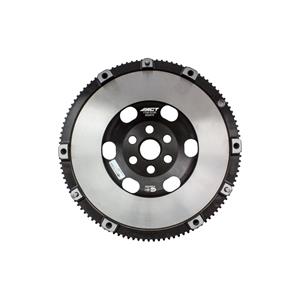 Flywheels for both performance and racing are weight optimized for an ideal balance of Moment of Inertia (MOI = resistance to acceleration) and strength. ACT uses one-piece Chromoly steel forgings, the strongest manufacturing method available, to best align the internal grain structure. Streetlite versions are configured for a significant performance boost with minimal drivability compromise. Offered for select applications, Prolite flywheels are aggressively tuned for competition use. These rival the MOI of the lightest aluminum flywheels without any of the potential reliability or maintenance concerns.
Each new product candidate is subjected to a painstaking development cycle with rigorous quality gates. First to market is not found on any project goal list. If the result does not perform significantly better, address issues common to each application and stand up to highly modified engines, it does not receive production approval.
Some call it Old School, yet quality keeps no calendar. A job is either done right or it's not done. ACT insists on vehicle testing, dynamometer results, laboratory testing, 3D modeling, rapid prototyping and simulation to bring the best solutions possible to our customers.
ACTs USA manufacturing plant utilizes specialized production test equipment to check clamp load, verify release travel, computer dynamic spin balance and diaphragm cycling before shipping. SFI Certification is standard across most of the product line. Clutches and flywheels take time and energy to install, so it often pays to select the best components the first time. Technology does change over time, and ACT's commitment to excellence never has - and never will.